What does it look like when hundreds of startups descend on the Big Easy?
Last week I joined a few of my colleagues from Actionable at Collision Conference in New Orleans. Approximately 11,000 people were in New Orleans for a three day conference all about startups. The interesting thing about this conference is that the companies (including many from Canada) showing off their products or services changed every day, so each day was like attending a new conference.  In addition to being a massive trade show, Collision hosted talks from industry leaders on various subjects of interest to the startup world.
Among the many wearables and social media hopefuls, there were a few popular categories among the startups in attendance, notably:
Internet of Things
Virtual Reality
Big Data Visualisation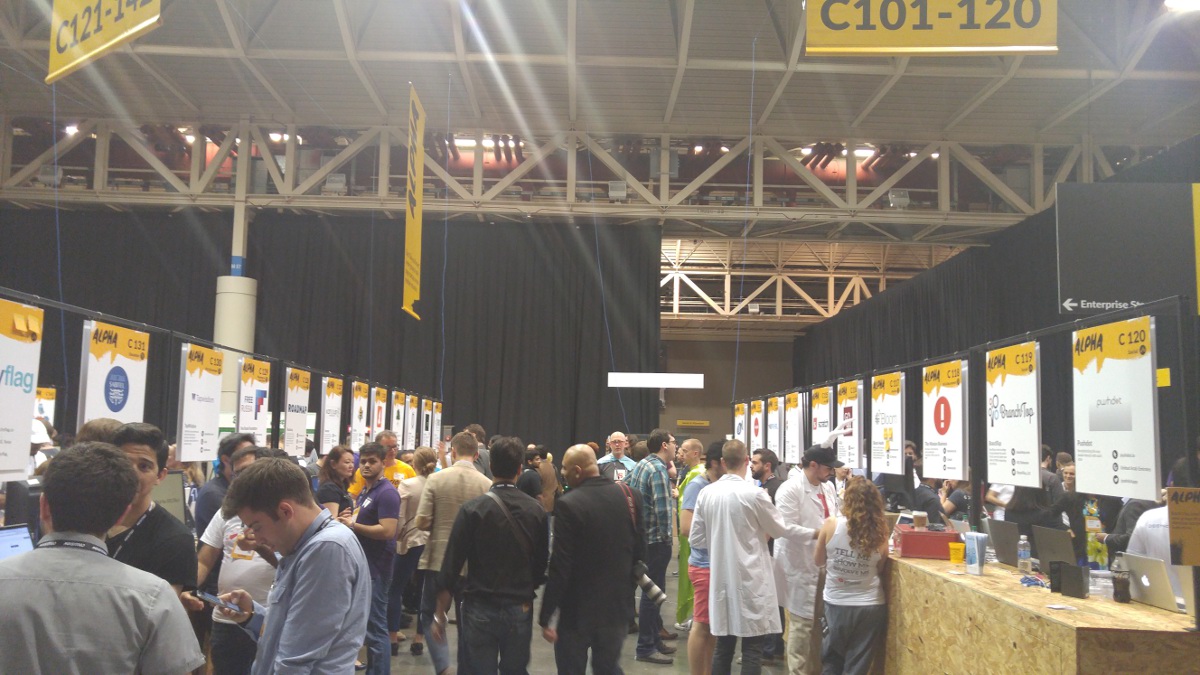 Virtual Reality
Of these categories, the ones that caught my attention the most were the Virtual Reality startups.  I know VR isn't *new*, but it is new to me.  I hadn't tried any VR since its very early days.
I hadn't yet had a chance to try an Oculus Rift or Google Cardboard yet, so the chance to experience an electronic dance music festival in virtual reality courtesy of YouVisit Studios was pretty darn cool! Watching part of an Armin van Buuren live set in VR is like being at the show, minus the sweaty audience and overpriced drinks. I just needed better headphones!
That was fun, but it was nice to see another startup, SpeakEazy, putting a practical use on VR.  They're looking to help people face their fear of public speaking using technology.  Select the type of audience you want to practice in front of, pop on your virtual reality headset, and begin your talk.  It's like speaking to a live audience. Plus, it records your talk, so you could share it with a friend or colleague for feedback.
AppOps, DevOps, and Continuous Everything
Continuous Integration and Continuous Delivery were topics mentioned more than once during the conference. If you weren't already aware, the days of updating your web applications through FTP are dead and gone.  Hosting company Digital Ocean and Version Control company GitLab were both present, which made sense given their recent partnership to provide continuous integration for GitLab projects.  There were also two excellent panels on the subject on the "Builders" stage on the Wednesday afternoon.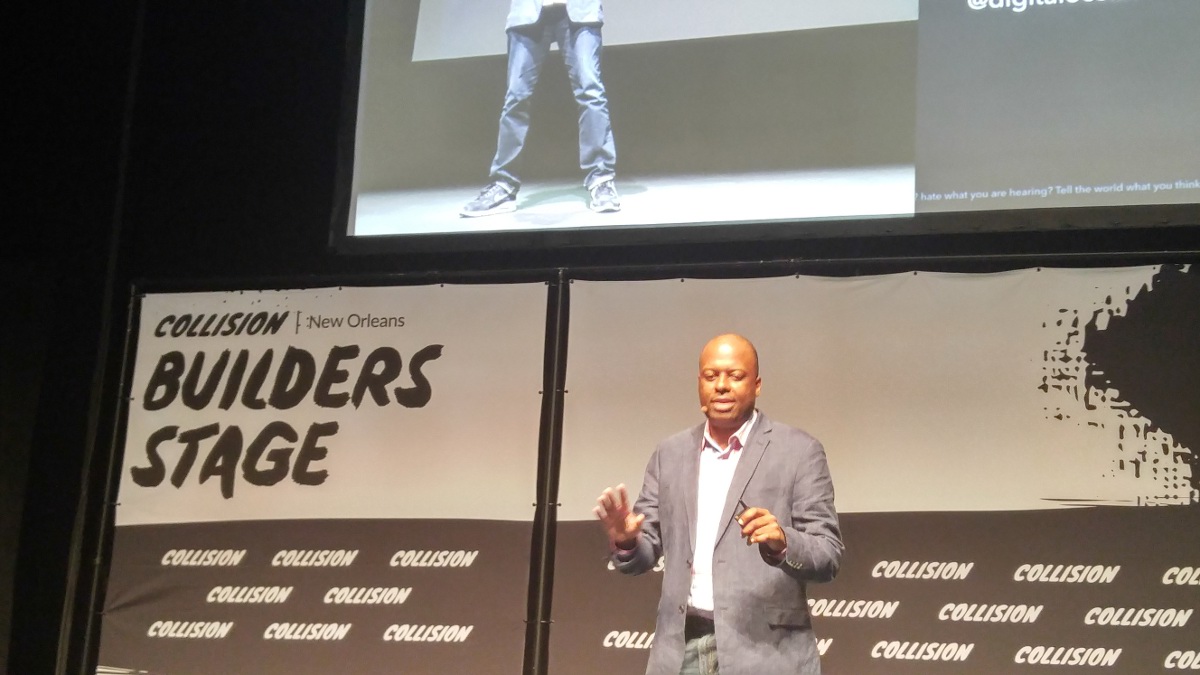 New Orleans
The organizers of Collision know well that the most valuable part of any conference isn't the trade show or the talks, but the networking opportunities available in the hallway, or at the after parties. Collision's "Night Summit" is a series of organized parties that take place near the conference centre each night. Since we were launching the Actionable Conversations beta last week, I wasn't able to attend the parties, but heard they were fantastic. While out for dinner one night, I did catch a second line filing out of one of the bars.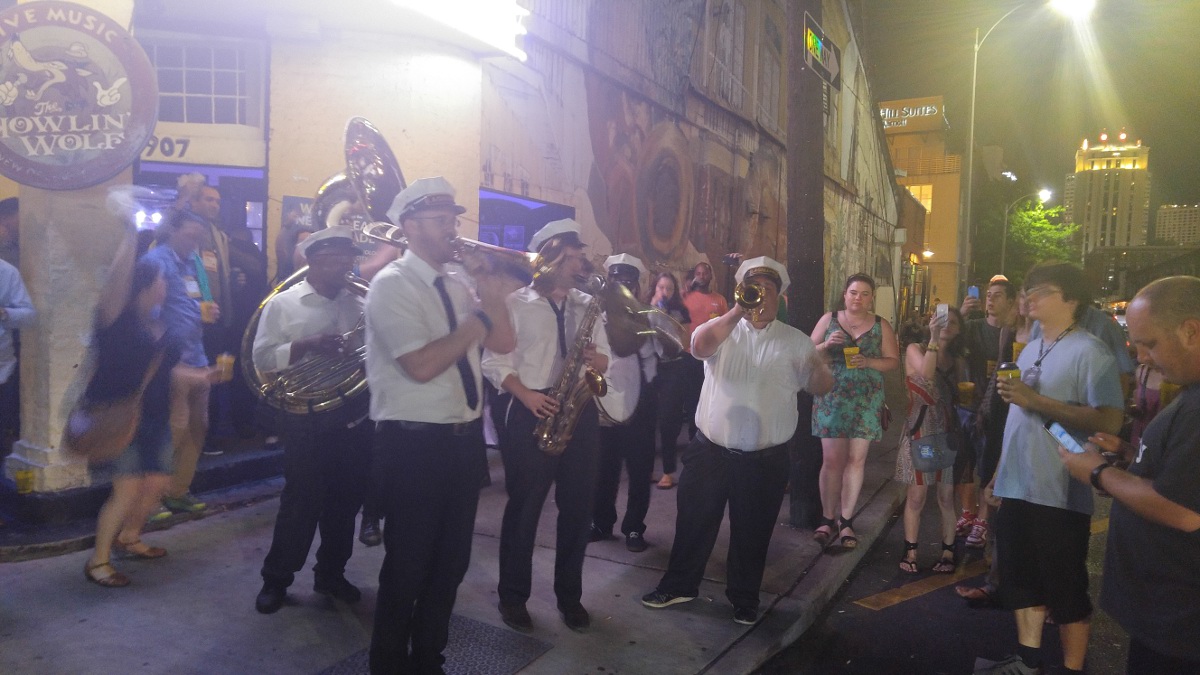 I did have a chance to enjoy some great southern cooking though.  This trip allowed me to taste my first Po-Boy, Beignets, Crawfish Etouffee and authentic Jambalaya.
Collision Conference was great, but I could return to Louisiana just for the food!